World Vision China Continues to Conduct Rapid Needs Assessment in 5 Counties, 2 Provinces
"This flood is bigger than the one around the year of 1966!"
"I helplessly watched the rain and the mud burying my house. My mind went blank."
"I've no idea how to clean it up. I feel helpless. What I want to do most now is to clean up my house."
The survivors said.
In early June, persistent rainfall swept across southern China, some areas have been reported that rainfall had hit record high, among which Jiangxi and Hunan were the hardest-hit areas.
At present, the rainfall has gradually weakened. The survivors, with the help of local government and social organizations, have orderly resumed their living and production. However, they need more relief assistance, especially those in the severely hit areas.
World Vision China is on the ground and has deployed two assessment teams to conduct rapid needs assessment along with local government and local partners in Jiangxi (Quannan and Longnan counties) and Hunan (Suining, Linwu and Guiyang counties) provinces.
The Flood Ruthlessly Swallowed My Home
Huang Lixia, 46 years old, lives in a village in Changpuzi Miao and Dong Township, Suining County, Shaoyang City, Hunan Province, China. On June 9, 2019, a rainstorm swept through her village.
After the rainstorm lasted for over three hours, the mud on the mountain together the rain broke into her house in full fury. And she was caught unprepared. Her house, together with her hope, was shattered suddenly. She could no longer enter her house to save daily necessities. She helplessly stood in her relatives' house next door and watched the rain and the mud burying her house. "My mind went blank." When recalling what happened on the day, Huang Lixia could not help crying.
The heavy rain and the mud destroyed all the furniture and buried my house. After the rain stopped, Huang Lixia dug out clothes. She washed and dried the good clothes and threw away the bad ones. Many things were damaged.
The rainstorm not only destroyed her home, but also wasted all her efforts for a good harvest. The three mu of land was the main source of income for the family. Her husband and she grew vegetables and rice. They worked hard on the three mu of land to support the study of the two sons and keep the pot boiling. Now, the rice is flooded. Their hard work is in vain.
▲ The flood pushed sand and stones to the farmland, making it difficult to plough the farmland again.
Since from June 6, 2019, torrential rainfall has been affecting some areas in Hunan Province, leading to the floods in 12 cities and 57 counties.
As of June 14, 2019, 4 deaths and 1 missing were reported, more than 1 million residents were affected, nearly 40,000 residents took emergency resettlement and over 10,000 residents needed emergency relief. Furthermore, a total of 64,360 hectares of crops was affected, over 3,700 houses were reported collapsed or damaged. In total, the direct economic loss has amounted to over RMB1.737 billion (USD 254 million).
▲The bridge was damaged.
▲The flood led to total crop failure of the farmland.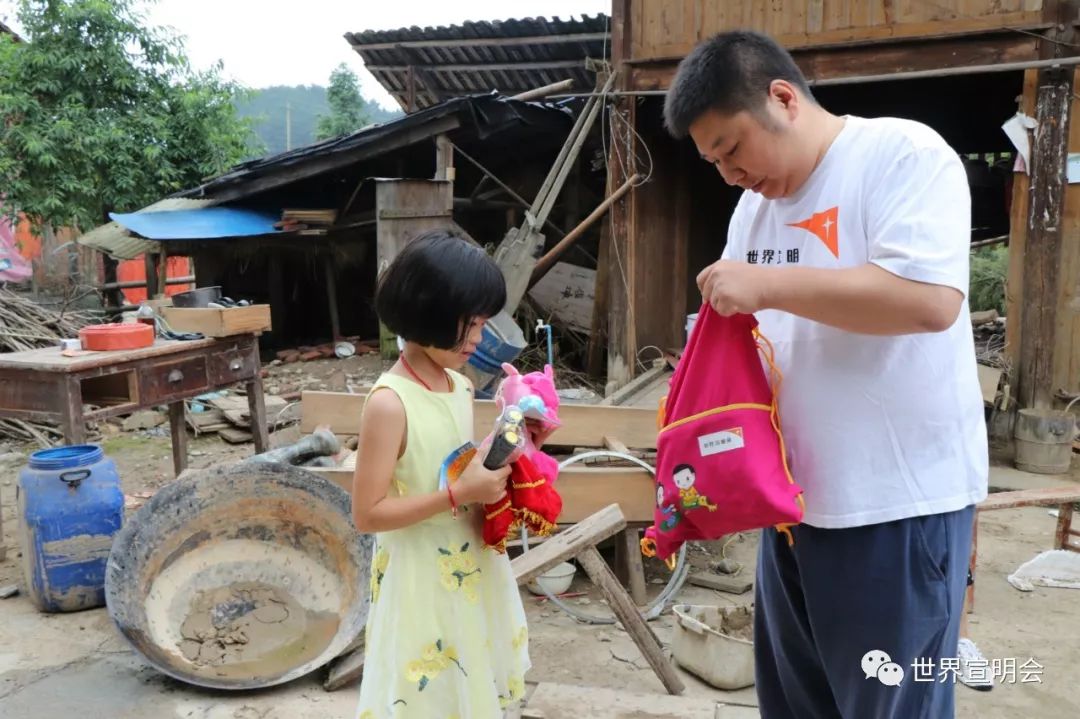 ▲World Vision distributed child friendly kit to local children. The children could play the toys or chess in the kit, which help reduce the psychological impact of disasters on children.
"I'am afraid I would never see my mom again"
Ms. Xie lives in Quannan County and has a son and a daughter. "She was at home alone when the disaster struck. "I was so nervous that I couldn't speak out a word." She said.
She looked alarmed at the sudden rising flood and hurried home. But later she found that the flood blocked the door of the house. She couldn't open the door by herself and was trapped inside. Fortunately, her next-door neighbors heard her cry for help and broke a corner of the window safety net for Ms. Xie to get through. She managed to get out.
▲ Ms. Xie pointed at the broken safety net and shared her experience with WV staff.
Ms. Xie was more worried about her son. Her 11-year-old son, Xiaoyong, a fourth grader, was sent to school by someone in the community with some other students. When the river rose later, Xiaoyong and some others were blocked by the water at the bridgehead.
Fortunately, her son and neighbors returned safely after the river receded a little. Ms. Xie said that when her son returned, he held her the first time and looked a little frightened. Her son told Ms. Xie he was afraid that he would never see his mother again.
Now, Ms. Xie and her son have moved out of their current house and are staying at her daughter's house on higher ground in the neighboring town (Nanjing Town).
Her son was scared, too. Ms. Xie went out to dine and wanted to go home for a while. Her son said, "Mom, don't go there! Mom, don't go there! You're not going in there!" He feared that Ms. Xie would have an accident.
As of June 13, 2019, nearly 3 million residents in Jiangxi Province were affected, more than 220,000 residents took emergency resettlement and over 120,000 residents needed emergency relief. Furthermore, a total of 208,700 hectares of crops was affected, over 9,000 houses were reported collapsed or damaged. In total, the direct economic loss has amounted to over RMB8.78 billion (USD 1.28 billion).
▲Residents' houses along the river of Yangcun Town, Jiangxi Province have been badly damaged.
▲The large amount of mud left by the flood after receding has affected normal traffic and life. After five days of cleaning, there is still about 10 centimeters of mud left.
▲ Some houses were completely submerged, leaving traces of submerged walls.
WV China Relief Ongoing
WV China will be focusing on providing relief assistance in the severely affected areas of Jiangxi and Hunan. Recently, the first batch of relief supplies are going to arrive in Shicheng County, Jiangxi Province. It is expected to benefit 9,175 flood affected people.
In the meantime, WV China is working on a second relief plan, hoping help more survivors in Jiangxi and Hunan.
---End---